Casino Software - Slot Machines - Payment Systems

We develop professional Casino Software, slot machines and fun games for use in Casinos, game rooms, bars or other public facilities.

The range of application of the fruit machines allows operation as a slot machine or as an entertainment or token machine. Approved engineering designed for professional use. 100% touch screen compatible and multi screen ready!

In addition we offer different credit boards, payment systems and vending technology like coin mechanism, currency/coin accepter/rejector, bill validator, cashless payment system, currency/coin changer, currency/coin counter and sorter, parts and accessories for vending machines.

The games menu (12 games, background picture freely selectable):
Extensive service functions like PayIn / PayOut via bill validator, coin validator, credit codes, bar code scanner, smart cards, service menu, keyboard, key switch or network, hopper or ticket printer respectively. Games statistics, game play history, multiple bookkeeping, dual screen or single screen, MYSTERY jackpot system, ...

We added some new functions to fit the law in most states. For example we do have now a "very easy and fast to use skill function", "hands count function", "telephone pins function", "coupon function", "sweepstake function", and we are working on a "no chance preview function".

Just activate the features you need for your laws. Why buy a new game every time when you are just a few settings away from all the features you need in one game!


Jackpot:



In connection with the NetControl software a MYSTERY jackpot game can be joined, too.

The player has the additional possibility to win the GOLD JACKPOT, SILVER JACKPOT or BRONZE JACKPOT. One of the 3 jackpots is triggered by random to one of the connected and active clients.


Service program:




- min. and max. bet adjustable from 1-100
- adjustable payout percent
- extensive bookkeeping and statistics
- extensive setup devices with various test functions
- Logfile and history function
- ...

• Exclusive equipment on request

Our casino software is available as ready to use single or network station or also as a pure software package for already available machines e.g. as tuning kit for web stations, touch screen machines etc..

The software can be used on every machine, provided that it has a built-in standard PC.

Various possibilities are available for payin/payout like coin and bill acceptor, hopper, ticket dispenser, or a interface to connect to other payment systems as well. You can also handle the payin/payout payments central with our NET-Control software. It is also possible to add credits without using cash via CREDIT CODES / BARCODES or SMARTCARD !

Following payment devices are supported:

- Coin acceptor of the type NRI, RM5, EMP or compatible
- Bill acceptor of the type NV9, NV10, GBA or kompatible
- Hopper of the type MK2 or compatible
- MoneyMat interface
- Ticket dispenser (printer)
- Universal interface (digital IN/OUT)
- Service menu (USB stick, key switch or radio transmitter)
- Credit codes / Barcodes (keyboard or barcode scanner)
- Smartcards (memory cards like I2C or SLE4442)
- Keyboard (keystroke adjustable)

Connections for buttons + illumination:

There is also the possibility to connect buttons to use beside the touch screen control. The Interface supports 8 IN and OUTPUTS for buttons and their illumination. Of course it is possible to play the games via mouse and keyboard, e.g. SPACE button is start/stop reels.


Cabinets: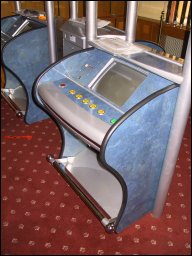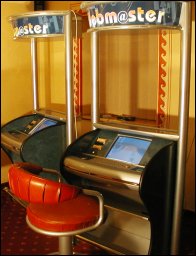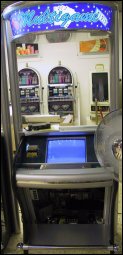 Different stand- or wall mounted cabinets as well as design cases possible!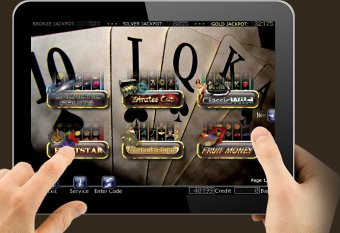 It is also possible to use the games on a tablet PC. The quality and playing functions are making our CASINO SOFTWARE to one of the TOP games available on the market. The success of the predecessor model speaks for himself.


Casino games:
PHARAOHS TOMB



Very popular 5 reels slot machine with classic casino symbols like 10, J, Q, K, A and a special bonus feature game. Highlights are, for example the high resolution graphics and 3D animations, joker symbol, feature games, 9 win lines, risk function, sound effects and much more.

The feature game convince with many 9x wins. more information
PIRATESCAP



5 reels slot machine with hot win symbols like amulet, map, ship, chest, pirate, etc. and a special bonus feature game. Highlights are, for example the high resolution graphics and 3D animations, joker symbol, feature games, risk function, sound effects, ...

"PiratesCap" bonus game and feature games with "multiplier" for extra big game play fun! more information
CLASSICWILD



5 reels slot machine with classic win symbols like star, bell, bar, seven, scatter, etc. and a special bonus feature game. Highlights are, for example the high resolution graphics and 3D animations, joker symbol, feature games, risk function, sound effects, ...

The feature game convince with many 5x wins. more information
GALACTICFRUITS



5 reels slot machine with classic fruit win symbols. Highlights are, for example the high resolution graphics and animations, auto play function, all stop function, risk function, sound effects, ...

This is a simple but very popular fruit machine game.
more information
HOTSEVEN



Interesting reels fruit game with classic casino symbols like 7, different fruits, star, bar, bell. Highlights are, for example the high resolution graphics and 3D animations, joker symbol, feature games, risk function, sound effects and much more.

Several jackpots and risk ladders make this game being extra fun!
more information
FRUITMONEY



5 reels slot machine with classic casino symbols like cherry, lemon, orange, seven, etc. and a special bonus feature game. Highlights are, for example the high resolution graphics and 3D animations, left-middle-right wins, feature games, risk function, sounds, ...

Feature games with special "Mystery 7" function for extra big game play fun! more information
FRUITSTAR



5 reels slot machine with classic casino symbols like cherry, lemon, orange, seven, etc. and a special bonus feature game. Highlights are, for example the high resolution graphics and 3D animations, joker symbol, feature games, 9 win lines, risk function, sound effects, ...

Feature games with special "Joker Fill + Hold" function for extra big game play fun! more information
VIDEOPOKER



An enlarged and improved version of VideoPoker NET. Highlights are, for example, the extra high realistic graphics resolution, big playing cards, Joker, 3rd draw, many bonus functions, risk feature, sound effects and much more.

A video poker game that comes with extremely many different bonus wins! more information
FRUITPOKER



Interesting fruit poker game with classic casino symbols like different fruits, bar, bell. Highlights are, for example the high resolution graphics and 3D animations, big playing cards, joker, cherry bonus, risk function, sound effects and much more.

With the special "Cherry Bonus" there is a more attractive extra win possible. more information
DRAWPOKER



Simple poker game with interesting risk feature. Highlights are, for example the high resolution graphics, big playing cards, joker, risk function, sound effects and much more.

With the special "SKILL bonus feature" there is a more attractive extra win possible. more information
BINGO



Popular and thrilling Bingo game. Highlights are, for example, extra ball draw, feature game, high resolution graphics, sound effects and much more.

The classic variant of casino bingo games. more information
BLACK JACK



Popular and graphically high quality Black Jack game with many functions. Highlights are, for example, extra high graphics resolution, split, double, insurance, risk feature, sound effects and much more.

Includes a special "5 cards" bonus function. more information
| | |
| --- | --- |
| NetControl | With the NET-Control software you can control and supervise all connected terminals with one master PC, for example remote PayIn/PayOut, start or close games, lock the terminal, ... Another feature of the NetControl software is the integrated MYSTERY jackpot system. more information |
CASH-Terminal



With the CASH-Terminal software you can create new user accounts or add credits to an existing user account thru a central station.

Extensive service functions like bookkeeping, statistics, external device setup, ... more information
Photo booth cash control system

With the photo booth cash control system it is possible to add a cash system to the Breeze DSLR Remote Pro photo booth software and charge money for printing photos.

The software controls the CASH-Interface2 and is able to monitor the DSLR state, ... more information
CASH-Interface2




Connects arbitrary coin and bill acceptors and 3x hopper to the PC. Connects to USB port via MINI-B USB cable.

2 free useable inputs, e.g. to connect push buttons. 2 free useable outputs, e.g. to connect lamps or other actuators. 1 output as relay contact. more information
CASH-Interface MC8




Universal usable credit board. Works without PC because its totally micro controller controlled.

Time, price, money changer or flow control available. For example as money changer, hard cash dispenser, cash machine, ATM, cash dispenser, token dispenser, ticket vending machine or vending machine usable. more information
CASH-Interface MC8 LITE





The CI MC8 LITE credit board can be used to build a simple money changer or token machine with one hopper.

Connections for bill validator, coin validator, hopper or ticket dispenser, and LCD display.

The current credits are shown on the LCD display. more information
COIN-Simulator



The COIN-Simulator simulates an electronic coin validator (PARALLEL Interface, channel 1 to 6), and offers the possibility to add credits by a push button.

Two LEDs show the operating voltage from the machine, and the enabled line (INHIBIT).
more information
| | |
| --- | --- |
| KEYSTROKE-Board | With the KEYSTROKE-Board you can send up to 16 different keystrokes like SPACE BAR, ENTER, CTRL, numbers 0-9 and some letters, by external connected push buttons to the PC. more information |
NRI G40 to NRI G13 coin mech adapter


With the NRI G40 to NRI G13 coin mech adapter you can connect coin mechs of the type NRI G40 or pin compatible, e.g. MEI CASHFLOW 111 or MEI CASHFLOW 9520 (CF952X), to interfaces that are done for coin validators of the type NRI G13.
more information
ASTROSYSTEMS GBA ST2 to NV10 adapter



With the ASTROSYSTEMS GBA ST2 bill validator to NV10 bill validator adapter you can connect bill validator of the type ASTROSYSTEMS GBA ST2 (Global Bill Acceptor with 20 pol. plug) to interfaces that are done for bill validators of the type NV9 or NV10 (Innovative Technologie with 16pol. plug). more information
UNIVERSAL HOPPER MK2 / MK3 / MK4 Adapter



Allows connection of MK2 / MK3 / MK4 / evolution hopper with "chinch connector" to the HOPPER-Interface or CASH-Interface2 or CI MC8 via 10 pol. flat ribbon cable (Azkoyen plug).

With a jumper you can select hopper mode1 (LOGIC CONTROL) or hopper mode2 (COIN COUNTING). For +24V DC hopper it is possible to connect an external power supply.
more information
8 Channel Digital IN/OUT Module



The 8 channel digital IN/OUT module offers 8 digital input channels and 8 digital output channels.

The module can be used to control electrical devices, e.g. heaters, vans, pumps, valves, solid-state relays and other power equipment for home automation as well as industrial automation. more information
COUNTER-Board



Connects arbitrary electromechanical impulse counters to the PC. Simple implementation into your own projects with an enclosed DLL.
more information
| | |
| --- | --- |
| LCD display adapter | With the LCD display adapter it is possible to connect standard LCD displays via 10pol. or 16pol. flat ribbon cable, and use it either in 4bit or 8bit mode. more information |
CABLE-Tester



The cable tester can quickly and easily check 10 and 16 pin flat ribbon cables for proper functioning.

Above mentioned cables can be tested with the CABLE-Tester for correct electrical connections, disruptions and short circuits.
more information
Please place your order via the WebShop
Please send us your inquiry via E-Mail form
Legal Notice

Top