CASH-Interface2





Home

With the CASH-Interface2 you can connect coin acceptors of the type NRI G13 - NRI G18 - NRI G40 - EMP 800 - RM5 - MARS - MONEY CONTROLS C120 - AZKOYEN - MICROCOIN - FAGE - ICT or others, or bill acceptors of the type NV9 - NV10 - SMILEY - JCM - GBA I - GBA II - GBA HR1 - GBA ST1 - GBA ST2 - MEI - APEX - MATRIX - VECTOR - PYRAMID TRILOGY and others easily to the PC. You can also connect ALL devices which are supporting PARALLEL, PULSE or BINARY mode.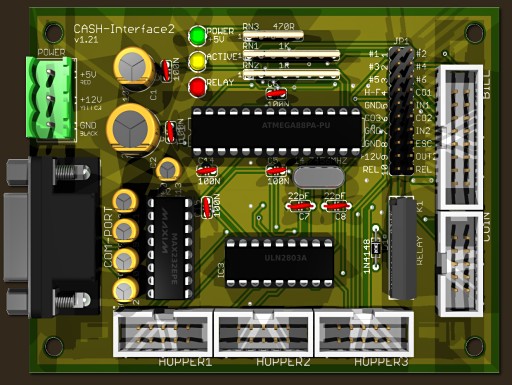 board size: 100 x 75 mm
Hint: ccTalk is not supported


Currently the following credit and smartcard systems can be connected:



Nayax cashless payments vpos

Otiglobal cashless payment systems otipulse

Sacoa Debit Card, POS and Redemption System

Ingenico pos solutions smart pos self-service

In addition you can control hoppers of the type Universal Hopper MK2, MK3 and MK4, Azkoyen U-II Hopper, Flow Hopper, NRI H2 Hopper, Cube Hopper MK2 intelligent, Evolution Hopper, Escendo Escalator Hopper, Excel Hopper, Rode-U-Hopper and others easily with the PC. You can connect ALL devices which are supporting PULSE mode. Furthermore you can control all note dispenser or card dispenser that support the hopper mode, e.g. ICT ND-300 , ICT CVD-300

Features:



Simultaneous operation of a coin and bill validator as well as
3x hopper.


Works on the USB (with USB to Serial converter) or serial port.


RS232 plug for direct connection to the mainboard via flat ribbon
cable.


The interface is monitoring six channels + power supply.
Using BINARY Mode there are i.e. 15 different bills and 31 different
coins possible at the same time.


The devices are disabled until the software activates them.


The pinning of the connectors are designed for coin acceptors of the
type NRI G13 - RM5 - EMP 800 - MEI CASHFLOW 330 and for bill
acceptors of the type NV9 or NV10 - PYRAMID TRILOGY. We offer
also specially wired connection cables or adapters for all other
types, e.g. NRI G40 or GBA ST2.


External coin sorter control via hopper full signal.


Hopper full and empty signal detection.


2 free useable inputs, e.g. to connect push buttons.


2 free useable outputs, e.g. to connect lamps or other actuators.
1 output as relay contact.


Watchdog function, that means the acceptance is deactivated
on errors.


The control of the devices is done with simple commands.


---


Download CASH-Interface2 software version 1.6.5.1
This software package includes: Manual, example project for Delphi incl. sourcecode.







---


Download ci2.exe keystroke edition version 2.3.6.1
This software package includes: ci2.exe keystroke edition. The ci2.exe keystroke edition can send a keystroke on cash in, e.g. F6, to any program. The keystroke as well as the repeats can be adjusted for every coin and bill channel separately. Fixed selling price and pay out change via hopper possible. External control via separate remote.exe or sndmsg.exe and parameter possible.

With a CASH-Interface2 and the "keystroke edition" software it is possible to carry out a simple cash payment system for e.g. the Social Booth Photo Booth Software from Photo Booth Solutions, for the dslrBooth Photo Booth Software from dslrBooth or Breeze DSLR Remote Pro photo booth software as well as other software you can control by keystrokes!

The ci2.exe keystroke edition software can even create a credits.txt file, that can be used by other software.

Using the price control feature the on board relays can be additionally controlled. The relays switches on for the adjusted time when the cost has been reached.







---


CASH-Interface2 online manual

CASH-Interface2 manual [English]


Video CASH-Interface2 with USB to Seriell converter:



Problems:

Work thru this checklist, this should help to fix your issues!


If the COM port is open, the answer from the board with all settings must appear in the log. If not, there is something wrong with the connection to the CASH-Interface2, or simply the wrong COM port setting. Important: Check tight cable connections and the power supply is connected correctly. Using a USB to serial converter the correct COM port number can be found in the Windows device manager, see above video.


Check all cables if they fit tight.


Remove all extension cables, e.g. USB extension cord or USB hub.


Use a different COM or USB plug on the PC, and replace all cables if problems still appear.


If the PC main board offers a free PCI Express slot, it is possible to add a cost-effective PCI Express serial card to have a pure COM port available.


A COM port can be opened only once, so be sure the COM port is not open by a other application.


Be sure the coin validator is placed horizontal so the device can measure correctly.


We figured out that some customers using a serial touch screen, the serial touch screen driver screws up all other Com ports, which results in communication errors with the CASH-Interface2. Try to get a USB controller for your touch screen and uninstall the serial touchscreen drivers. Visit the manufacturer website of the touch screen and download latest touch screen driver, but be sure to do not install serial drivers. A working 3M driver can be downloaded here: 3M touch screen driver win32-64



---


HINT: You can not reprogram coin and bill validators with the CASH-Interface! To change validator settings the orginal programming software from the manufacturer is needed.

We offer PC kits for reprogramming GBA and NVx bill validators as well as RM5 coin validators in our WebShop.



---



Scope of supply CASH-Interface2:
- 1x CASH-Inteface2
- 1x Flat ribbon cable for coin acceptor (10 pin, 0,8m)
- 1x Flat ribbon cable for bill acceptor (16 pin, 0,8m)
- 1x Flat ribbon cable for hopper (10 pin, 0,8m)
- 3x cable for IN and OUT (2 pin, 0,2m)
- 1x SUB-D cable for PC connection (9 pin, m/f, 1,8m)
- 1x cable for PC power supply (4 pin)
- 4x PCB distance sockets + cable ties
Price per piece: 79,95 EUR (plus VAT) WebShop



---


Accessory:
RM5 coin validator with front plate


Various currency data sets available. Accepts up to 59 different coins or tokens. Channel 1-6 can be programmed by selfprog mode.

Weather-proof design available for outdoor use.

Price per piece: 129,95 EUR (plus VAT) WebShop



---


Accessory:
NV10 USB bill validator


More than 60 currencies and multi currency data sets available.

Several front panels available.

Price per piece: 192,44 EUR (plus VAT) WebShop



---


Accessory:
Power supply +5V and +12V DC


Two voltages in one device. +5V DC for operating the CASH-Interface2 board, +12V DC for operating the load.

Price per piece: 19,95 EUR (plus VAT) WebShop



---


Accessory:
GBA bill validator to NV10 bill validator adapter


Makes it possible to connect a GBA bill validator to the CASH-Interface via 16pol. flat ribbon cable (NV10 plug).

Or to connect GBA bill validator to a NV10 bill validator interface.

Price per piece: 9,95 EUR (plus VAT) WebShop



---


Accessory:
UNIVERSAL HOPPER MK2 / MK3 / MK4 Adapter


Makes it possible to connect MK2 / MK3 / MK4 / Evolution hoppers with "Chinch Connector" to the HOPPER-Interface via a 10pol. flat ribbon cable (Azkoyen plug)

With a jumper you can select hopper mode1 (LOGIC CONTROL) or hopper mode2 (COIN COUNTING). Jumper closed is mode1, jumper open is mode2. For +24V DC hopper it is possible to connect an external power supply. Manual
Price per piece: 15,00 EUR (plus VAT) WebShop



---


Accessory:
NRI G40 to NRI G13 Adapter

Makes it possible to connect NRI G40 coin validator to the CASH-Interface via 10pol. flat ribbon cable (G13 plug). Manual
Price per piece: 9,95 EUR (plus VAT) WebShop



---


Accessory:
Note dispenser ND-300 Adapter

Makes it possible to connect ND-300 note dispenser to the CASH-Interface2 via original ND-300 cable. The adapter can also be used to have one extra input and output for the CASH-Interface2, e.g. to be used with the photo booth system. Manual

Price per piece: 9,95 EUR (plus VAT) WebShop



---


Ready to use CASH-Interface2 software:

CI2 keystroke edition software
Kiosk timer software
Token vending machine software
Breeze photo booth cash control system
dslrBooth cash payment system



---


Please send us your inquiry via E-Mail form