| | |
| --- | --- |
| HOPPER-Interface | Home |
With the serial HOPPER-Interface you can connect hoppers of the type

Cube Hopper MK2, Universal Hopper MK2, MK3 und MK4, Evolution Hopper, Escendo Escalator Hopper, Excel Hopper, Compact Hopper SBB, Rode-U-Hopper, Azkoyen Hopper

and others easily with the PC. You can also connect ALL devices which are supporting PARALLEL or PULSE mode.

Furthermore you can control all note dispenser or card dispenser that support the hopper mode, e.g.

ICT ND-300 , ICT CVD-300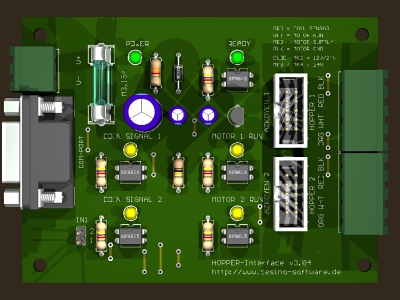 board size: 100 x 75 mm
Hint: ccTalk is not supported
Features:

• Connect arbitrary hopper on the USB (with USB to Serial converter)
or serial port.
• With the HOPPER-Interface you can control 2 hoppers / devices.
• The hopper is disabled until the software activates it.
• TimeOut supervision, for example if the hopper is empty or on
coin jammed.
• The connection is designed for hoppers of the type Cube hopper
MK2 (with driver cable) and Azkoyen hopper U. By use of solder
less lugs all other hopper types can be attached without any
problems, too.
• The monitoring device function is carried out via a DLL which can
be used out of every programming language!
• 1 extra free usable input (NC), for example to monitor full or empty
state, external credit pulses, key switch, wake up line, ...
Download CASH.DLL Software Version 4.1.1.6

This software package includes: the CASH.DLL, reference CASH.DLL, manual,
example projects for Delphi, Visual Basic 6 and Visual Basic .Net incl. sourcecode.



CASH.DLL Online Manual



---



Scope of supply HOPPER-Package 1:
- 1x HOPPER-Interface
- 1x SUB-D cable for PC connection (9 pin, m/f, 1,8m)
- 1x cable for PC power supply (4 pin)
- 2x Flat ribbon cable for hopper connection
(10 pin, 0,70m)
- 4x PCB distance sockets + cable ties
Price per piece: 58,82 EUR

(plus VAT)

WebShop



---



Scope of supply HOPPER-Package 2:
- 1x HOPPER-Interface
- 1x Flow hopper
- 1x SUB-D cable for PC connection (9 pin, m/f, 1,8m)
- 1x cable for PC power supply (4 pin)
- 2x flat ribbon cable for hopper connection
(10 pin, 0,70m)
- 4x PCB distance sockets + cable ties
Price per piece: 148,74 EUR

(plus VAT)

WebShop



---



Accessory:
- UNIVERSAL HOPPER MK2 / MK3 / MK4 Adapter

Makes it possible to connect MK2 / MK3 / MK4 / Evolution hoppers with "Chinch Connector" to the HOPPER-Interface via a 10pol. flat ribbon cable (Azkoyen plug)

With a jumper you can select hopper mode1 (LOGIC CONTROL) or hopper mode2 (COIN COUNTING). Jumper closed is mode1, jumper open is mode2. For +24V DC hopper it is possible to connect an external power supply. Manual

Price per piece: 15,00 EUR

(plus VAT)

WebShop



---


Accessory:
- Note dispenser ND-300 Adapter


Makes it possible to connect ND-300 note dispenser to the HOPPER-Interface.
Manual

Price per piece: 9,95 EUR

(plus VAT)

WebShop



---


Please place your order via the WebShop
Please send us your inquiry via E-Mail form