IN THIS ISSUE
| | |
| --- | --- |
| | Games package special offer |
| | Photo booth cash control system |
| | CASH-Interface MC8 credit board |
| | Bill to coin validator adapter |
| | NRI G40 to G13 coin mech adapter |
| | Individual software development |
Games package special offer
Special spring offer: Save up to 30% on our games package software. This offer is valid until 15th of April! Send us your inquiry now!
Photo booth cash control system
With the photo booth cash control system it is possible to add a cash system to the Breeze DSLR Remote Pro photo booth software and charge money for printing photos.

The photo booth cash control system package consists of everything you need to carge money for printing pictures, a coin validator, interface board and all needed cables. Download demo version.
CASH-Interface MC8 credit board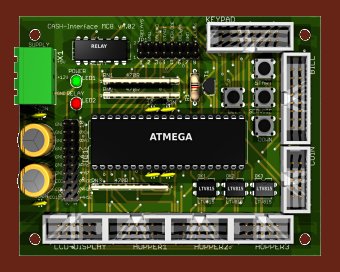 Universally usable credit board. Works without PC because its microcontroller controlled. For example as time, price or money changer useable.

Ideal for vending machines, fruit machines, game equipment, internet cafes, solarium, money changer, car wash plants, automatic washing machines, copy machines, payout token e.g. on a camping site, aso. Everywhere useable where time or price sale or goods sale needs to be done automatedly.
Bill to coin validator adapter

With the bill to coin validator adapter you can easily add by simple means a bill validator to your existing coin validator installation. Increase your sales by the additional acceptance of banknotes!

NRI G40 to G13 coin mech adapter
With the NRI G40 to NRI G13 adapter you can connect coin mechs of the type NRI G40 or pin compatible, e.g. MEI CASHFLOW 111 or MEI CASHFLOW 9520 (CF952X), to interfaces that are done for coin validators of the type NRI G13.

Individual software development
We have many years of experience in successfully developing custom software, as well as in the implementation of hardware solutions, up to developing individual printed circuit board layouts and micro controller controls.

Do you have a request for which you would like to get the right hardware or software solution? We offer a variety of pricing models, starting with the calculation on an hourly basis, investment models up to fixed price listings, depending on the nature and scope of the project. Send us your inquiry now!